Sample Occupational Therapist Resume
A great resume can be very beneficial when applying for an occupational therapy job. Recruiters and employers like to have a resume that they can easily read and quickly scan. They don't want to spend time figuring out if you work in pediatrics or geriatrics. Recruiters often are looking for specific specialties, whether it be in a school district or skilled nursing facility, or home care. If you have experience in a skilled nursing facility, make that known. If you have experience as an occupational therapist in a school, indicate that. If you are a new OT grad, you will want to include your clinical rotations and experience. Below is a sample occupational therapist resume. This is a great format to use when applying for OT jobs.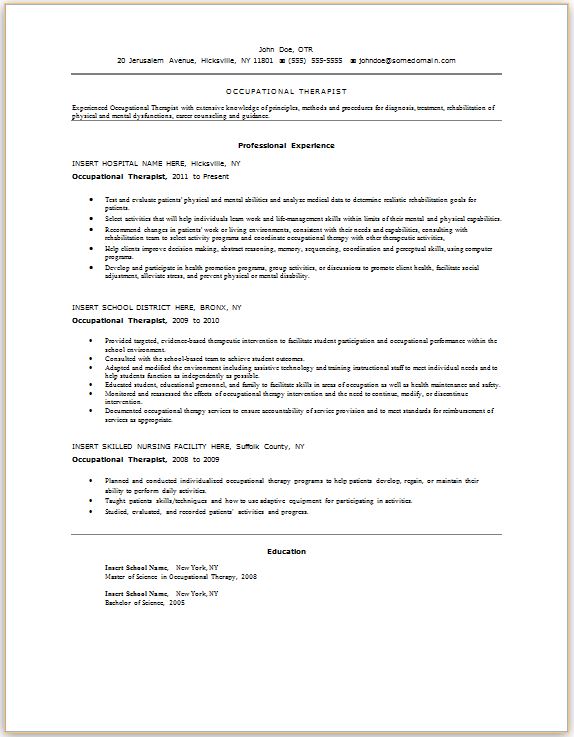 John Doe, OTR
20 Jerusalem Avenue, Hicksville, NY 11801 © (555) 555-5555 © johndoe@somedomain.com
Occupational Therapist
Experienced Occupational Therapist with extensive knowledge of principles, methods and procedures for diagnosis, treatment, rehabilitation of physical and mental dysfunctions, career counseling and guidance.
Professional Experience
INSERT HOSPITAL NAME HERE, Hicksville, NY
Occupational Therapist, 2011 to Present
Test and evaluate patients' physical and mental abilities and analyze medical data to determine realistic rehabilitation goals for patients.
Select activities that will help individuals learn work and life-management skills within limits of their mental and physical capabilities.
Recommend changes in patients' work or living environments, consistent with their needs and capabilities, consulting with rehabilitation team to select activity programs and coordinate occupational therapy with other therapeutic activities,
Help clients improve decision making, abstract reasoning, memory, sequencing, coordination and perceptual skills, using computer programs.
Develop and participate in health promotion programs, group activities, or discussions to promote client health, facilitate social adjustment, alleviate stress, and prevent physical or mental disability.
INSERT SCHOOL DISTRICT HERE, Bronx, NY
Occupational Therapist, 2009 to 2010
Provided targeted, evidence-based therapeutic intervention to facilitate student participation and occupational performance within the school environment.
Consulted with the school-based team to achieve student outcomes.
Adapted and modified the environment including assistive technology and training instructional staff to meet individual needs and to help students function as independently as possible.
Educated student, educational personnel, and family to facilitate skills in areas of occupation as well as health maintenance and safety.
Monitored and reassessed the effects of occupational therapy intervention and the need to continue, modify, or discontinue intervention.
Documented occupational therapy services to ensure accountability of service provision and to meet standards for reimbursement of services as appropriate.
INSERT SKILLED NURSING FACILITY HERE, Suffolk County, NY
Occupational Therapist, 2008 to 2009
Planned and conducted individualized occupational therapy programs to help patients develop, regain, or maintain their ability to perform daily activities.
Taught patients skills/techniques and how to use adaptive equipment for participating in activities.
Studied, evaluated, and recorded patients' activities and progress.
Education
Insert School Name,    New York, NY
Master of Science in Occupational Therapy, 2008
Insert School Name,    New York, NY
Bachelor of Science, 2005