Home Health Registered Nurse Jobs in New York
Scroll Down For Home Care RN Job Openings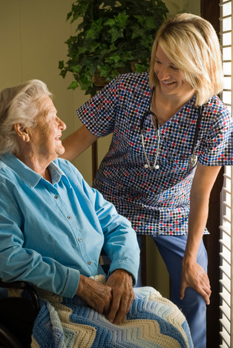 Horizon Healthcare Staffing is seeking skilled Registered Nurses (RN) with a specialty in home health to work within our clients' homes to provide direct patient care. Working with the physician, the Registered Nurse (RN) develops and manages nursing care plans, as well as instructs patients and their families in proper treatment, helping individuals and groups take steps to improve or maintain health. As a Horizon Healthcare Staffing home health RN, you will be responsible for following a physician established plan of treatment.
Home health nurses play an important role in the healthcare field. This form of nursing offers a high level of independence and dignity to patients and their family members. Many people require the services of a home health nurse due to a permanent disability, acute illness, terminal illness, or long-term health issue. This area of nursing is among the fastest growing of all nursing areas. The skills of a home health nurse make the needs of patients and family members a huge priority.
A home health nurse can work with patients of any age group. They can work in pediatrics or geriatrics. Most of our home health nurse jobs are of the geriatric type. Home health RNs provide patient education, treatment, and emotional support to help these individuals recover from injuries and illnesses. The nurse requires a high level of skill to work in someone's home. It requires excellent rapport, understanding, and communication with the patients and their family members.
We do require at least 6 months of home care experience in order to work for us. We also require that Registered Nurses looking to work in the home have a current New York license and has updated physical forms. Unfortunately, we cannot accommodate new grad RNs for these positions.
It is a huge plus in the eyes of our clients if you are a bilingual home health RN. We typically look for bilingual Russian, Korean, and Mandarin. If you have another language, please don't hesitate to apply. We offer many job opportunities within the New York area. Our main locations include the Bronx, Brooklyn, Queens, Staten Island, Manhattan, and both counties of Long Island (Nassau County and Suffolk County). If you want to be part of one of the fastest growing service industries today, click on one of the job openings below. These are examples of the typical positions that we have open.
Click on the links below for more details:
Home Health Registered Nurse – Suffolk County