15 People Who Had The Biggest Impact On Nursing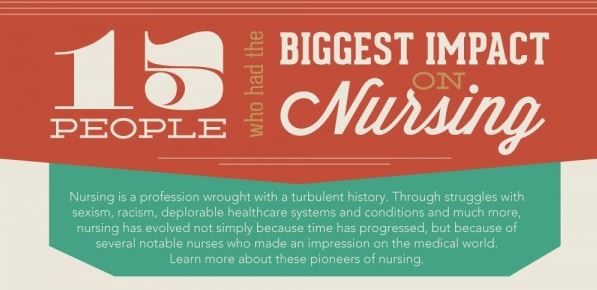 The nursing profession and nursing industry wasn't always what it is today. There were struggles of sexism, racism, bad working conditions, and deplorable healthcare systems, along with many others. Many people and nurses have contributed to the history of nursing, and have made a tremendous impact on the medical world. best-rn-to-bsn has complied a list (in infographic form) of some of the most important people in nursing.
Florence Nightingale (1820 – 1910)
Perhaps one of the best known nurses in history, her influence on nursing today is undeniable
– Legacy in Her Field: The Nightingale Pledge, taken by new nurses, is named for her. International Nurses Day is on her birthday, and her tireless work ethic is a legacy of its own.
Clara Barton (1821 – 1912)
Teacher, nurse, humanitarian and founder of the American Red Cross
– Legacy in Her Field: Her dedication to healthcare around the world and in dangerous situations has made a lasting impression on nursing. Her home for her last 15 years of life is now the Clara Barton National Historic Site.
Agnes Elizabeth Jones (1832 – 1868)
Devoted Irish nurse who pioneered a new standard of patient care
– Legacy in Her Field: A statue, a dedicated window and a student residence hall have been named for her in remembrance of her selfless work.
Ellen Dougherty (1844 – 1919)
World's first RN
– Legacy in Her Field: Devotion to improving a single institution garnered remarkable results for Dougherty and inspires others to adopt a similar attitude.
Mary Eliza Mahoney (1845 – 1926)
First African-American female nurse in the U.S.
– Legacy in Her Field: Today, the Mary Mahoney Award gives recognition to those who support equal opportunity advancement for minorities in nursing as she did.
Anna Caroline Maxwell (1851 – 1929)
'The American Florence Nightingale'
– Legacy in Her Field: Allowed for military ranking for nurses serving the armed forces, and made great strides in streamlining nurse training and procedures.
Mabel Keaton Staupers (1890 – 1989)
Figurehead for racial equality in nursing
– Legacy in Her Field: The National Association of Graduate Colored Nurses was eventually integrated into the ANA and Staupers' impact on racial equality in the field continues to resonate.
This infographic below shows the history of the 15 people who had the biggest impact on nursing.
Source: http://www.best-rn-to-bsn.com/history/