What Does It Take To Be A Home Health Aide?
Author: Gigi Nicolas – Home Health Aide Coordinator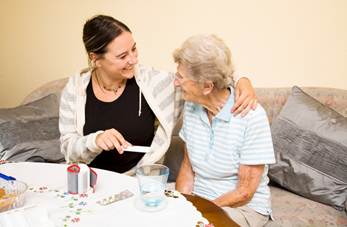 A home health aide isn't just a babysitter anymore. Families are depending more and more on HHAs to take care of their family members. Years ago HHAs were considered glorified babysitters, but in my opinion home health aides have become a necessity for a good majority of our elderly population. Certified home health aides deliver personal care, check vital signs under specific circumstances, and help keep track of the patient's symptoms. They can also assist with daily activities like preparing meals, doing laundry, and household chores.
So to answer the question what does it take to become a home health aide all you need to do is answer this question. Who would I trust enough to leave my loved one with? Though it will most likely be a stranger coming into your home, you will have to trust that the agency you employed to find you a home health aide is reputable, and did their own homework. The agencies should perform background checks, as well as meet the potential employee in person. It's important that you feel comfortable with the HHA coming into your home and taking care of your loved one.
An individual in New York State must get trained by a certified HHA training agency and must receive a minimum of 75 hours of training.  This includes classroom training as well supervised practical training. Most home care agencies require HHAs to have their High School diploma or GED. But in the end no amount of training can really prepare someone to do this job, you must be dependable, accurate, flexible, and able to communicate. But the most important quality you must possess: The heart of an angel!