Top 10 Universities for Nursing in the World 2016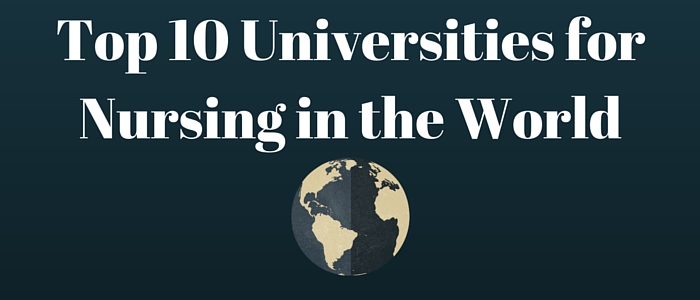 Where you went to school can play an enormous part in your life after you graduate. A lot of employers will look at where you went, and make pre determined judgements about your qualifications. In the business world, if you graduate from Harvard Business School, you are pretty much guaranteed any job you want. Although a name has a lot to do with it, it's also important you get a good education. A not so famous school can still deliver really good quality education. Nursing school is no different. There are so many schools to choose from, how are you supposed to make a decision? To make your decision easier, QS World University Rankings by Subject 2016 has come up with a list of the top universities for nursing in the world. In order to simplify the reading, we have broken it down into only the top 10 universities for nursing in the world. You can read the full report here.
Check out the list of the top 10 universities for nursing in the world below:
University of Pennsylvania

Johns Hopkins University

University of Toronto

University of Alberta

Karolinska Institutet

King's College London

University of Michigan

The University of Manchester

University of North Carolina, Chapel Hill

University of California, San Francisco
The rankings were based on academic reputation, employer reputation and research impact. The rankings aim to help prospective students identify the world's leading schools in nursing. The rankings were compiled using QS's global surveys of academics and employers. The other indicators asses research impact, based on research citations per paper and h-index in nursing. These are sourced from Elsevier's Scopus database, the world's most comprehensive research citations database.
Academic Reputation: in 2016 the surveys drew from 76,798 faculty responses. Respondents identify the countries, regions, and faculty areas they have most familiarity with, and up to two narrower subject disciplines in which they consider themselves experts. They are then asked to identify a list of up to 10 domestic and 30 international institutions which they consider excellent for research in nursing. They are not able to select their own institution.
Employer Reputation: in 2016 the surveys drew from 44,426 responses from graduate employers worldwide. Employers are asked to identify up to 10 domestic and 30 international institutions they consider excellent for the recruitment of graduates.
Research Citations per Paper: They measure citations per paper, rather than citations per faculty member. A minimum publication threshold is set for each subject to avoid potential anomalies stemming from small numbers of highly cited papers. Both the minimum publications threshold and the weighting applied to the citations indicator are adapted in order to best reflect prevalent publication and citation patterns in nursing.
H-Index: The h-index is a way of measuring both the productivity and impact of the published work of a scientist or scholar. The index is based on the set of the scientist's most cited papers and the number of citations that s/he has received in other publications.