Marvel Comics Creates New Superhero That Wears Hearing Aids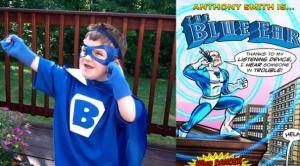 Anthony Smith cannot hear out of his right ear and suffers from hearing loss in his other ear. Anthony decided that he no longer wanted to wear his hearing aid, citing that superheros don't wear hearing aids. That's when his mother decided to look to Marvel Comics for some assistance.
Marvel responded with the image of Hawkeye, a superhero who lost 80-percent of his hearing and wears hearing aids. Marvel did not stop there. They later sent Anthony a new superhero, "Blue ear"
The superhero was named after Anthony's hearing aid, which he and his mother have always called blue ear. Thanks to Marvel, Anthony is now wearing his hearing aid once again!