In Home Nursing Care in New York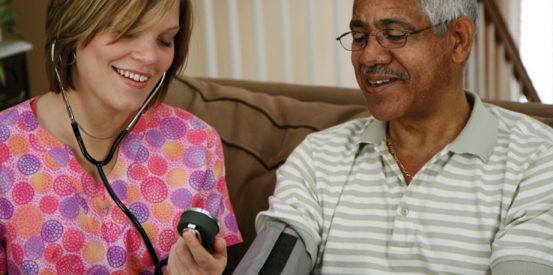 Click Here to Request In Home Nursing Care!
In home nursing care provides the same high level of care that a patient would receive in an institution by a Registered Nurse or Licensed Practical Nurse. In home nursing provides this high level of care in the familiar surroundings of the patients' home. Homecare Therapies has licensed registered nurses that can provide in home nursing that includes procedures that only a skilled nurse can provide.
Dispense medications – Our in home nursing services can dispense medications for the patient and make sure they are taken. Our in home nursing staff can also get medications ready for future doses so that the patient has their medications ready when the nurse is not there. Some medications must be dispensed by a registered nurse and our in home nursing service can provide all types of medication administration.
Manage Treatments – In home nursing can administer treatments for the patient as well. Our in home nursing care may be necessary if the treatment requires the technical expertise of a registered nurse. Our in home nursing professionals are trained on the latest treatments and techniques and are certified to provide a variety of treatments.
Provide Injections – In home nursing care can provide injections for patients. The types of injections we can provide include the annual flu vaccinations, any medication requiring an injection including fertility injections. If you need to take medicine through an injection but cannot administer an injection to yourself, we can provide a licensed nurse that can administer the injection for you.
Full Time Nursing Care – In home nursing can be provided on a full time basis for patients who require 24 hour supervision. We can provide all of the same services a patient would receive if they got nursing care in an institution.
Licensed Practical Nurses – (LPNs) can provide many of the above described services, and Homecare Therapies will insure that the right clinician is provided based on your specific need and customized treatment plan.
Our in home nursing services also include patient assessments including the PRI which are given to provide a real assessment of the patient. The results of these assessments can be for the family so that they can get a professional opinion on the safety of an individual. The results may determine whether a patient is better suited to be in an institution or not. A PRI is done to determine what type of institution is best to provide for the needs of the patient.