How to prepare for a CNA interview
So you've heard back from one of the several CNA job applications you've submitted. Now what? It's time to prepare yourself for the best interview experience you're going to have. Prior to the interview, it's important to know what to expect/what to do. You can give the interviewer a good first impression by being prepared for the questions, job requirements, behaving professionally, and keeping up a positive attitude. From your CNA skills or knowledge to your clinical experience, know how to present the best version of you. I will go over some tips that can help you learn how to prepare for a CNA interview.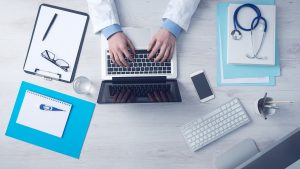 DRESS TO IMPRESS
What you wear shows people how you carry yourself. Think about your outfit in advance, and not the morning of the interview. Make sure your clothes are neat, clean, and presentable. Dress on the more conservative side, but wear fitted clothes. You don't need to go overboard and wear a tux or a gown, but make a note to keep it professional. Avoid wearing flip flops, shorts, tank tops, sundresses, low waist pants, and an excessive amount of jewelry. Maybe choose a nice blazer, a blouse, a button-down shirt, a skirt or pants. Don't be afraid to show a little bit of your personality while keeping it simple and professional.
RESEARCH THE FACILITY
Being well informed about the employer and basic information will make your interviewing process smoother. Gather information about the type of patient care that is being provided, the owner, the other healthcare professionals that work there, the work environment, and the company's mission. You want to make sure you find out all about the workplace before committing to being interviewed. By doing your research, you can also make references during the process, as well as personalize your questions and stand out as an interviewee.
EVALUATE YOUR SKILLS
While being interviewed, it is important to know what you can bring to the table. Inform the interviewer about what you have accomplished and the skills that might set you apart from others. Reflect on your previous jobs and think about the important lessons/duties you have learned. Whether if it's you're trained in personal care, the passion you have working with elderly patients, or the specialty you excel in, be confident in who you are as a professional. The skills you possess may make it clear that you are the employer's ideal candidate.
REVIEW COMMON INTERVIEW QUESTIONS
Another point to remember while learning how to prepare for a CNA interview would be to look into the type of questions that may be asked beforehand. Preparing possible questions can give you a head start on the road to success. Although every interview is different, there are always common questions that are frequently asked. Some of these questions may be:
Why do you want to work here?
Describe a time when you had to deal with a difficult patient, and how you overcame it.
Can you measure vital signs?
What is your favorite part about being a certified nursing assistant?
Where do you see yourself in 5 years?
What would your working schedule look like?
What are your strengths and weaknesses in the workplace?
Try to be as truthful as possible. Only give answers that reflect honestly. It's okay to take a minute to think about how to answer the question. The interviewer wants to get to know you and to see if you would be a good fit at their company/facility/practice.
DON'T BE TARDY
Punctuality is a very important trait that a majority of employers look for in their employees. If you are late to the interview, you will not make the best first impression. It would be safe for the interviewer/employer to assume that being on time could be an issue for you in the future. It is always safer to arrive 20-30 minutes before your scheduled interview time.
DOCUMENTATION
Most interviews require you to bring specific documentation that is needed to process your paperwork. Be sure to bring originals and copies of your identification, CNA certification (or any other certifications that fit the position, like CPR), resume, references from previous employers,  recommendations from patients that you've worked within the past, and if required, your medical records.
ASK QUESTIONS
If the interviewer did not cover something you were concerned about, don't be afraid to ask. Asking questions is a good thing because it also shows you were attentive during the conversation. This is also a great way to show some enthusiasm for the job. Common questions to ask the interviewer may be:
What is the rate of turnovers for CNA's?
Do you offer opportunities for advancement?
What makes you different than other facilities?
What is the value of a CNA at your establishment?
What does the dynamic of the workplace look like?
You can also ask questions about the roles and expectations the interviewer may have discussed with you, along with compensation and health benefits.
So these were some tips that hopefully gave you some insight on how to prepare for a CNA interview. Along with these tips, just remember to be confident and walk into the interview with a fresh perspective. Present yourself in the best way possible. Even if you don't get the position, practice makes perfect when it comes to situations like these. You'll always learn from experience. Best of luck!