Chipotle Offering Free Burrito to ALL Nurses June 8th, 2016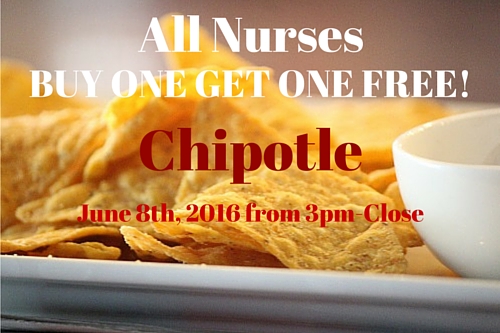 Chipotle is offering a buy one get one deal for all nurses on Wednesday Jun 8th, 2016 from 3pm – close at all US locations. This BOGO deal includes burritos, bowls, salads, or orders of tacos. This free burrito offer is extended to all types of nurses (RN, NP, CRNA, CNS, CNM, LVN, CNA, and local equivalents or analogues). ID can be nursing license or hospital/medical office nurse ID. It's as easy as that, just show your nursing ID and poof, free burrito after you purchase one.
Chipotle's offer is part of their nurse appreciation promotion. This promotion might have been better if it was conducted during Nurses Week (May 6th – May 12th), but hey, we can't complain about free burritos!
Here are the official rules:
Limit one free menu item per nurse ID, subject to availability. May not be combined with other coupons, promotions or special offers. For in-restaurant order only; offer not valid for online, mobile, fax, Burritos by the Box or catering orders. Offer good at Chipotle locations in the U.S. and Canada only. Valid only on Wednesday, June 8th, 2016 between 3 pm local time and close.  Additional restrictions may apply; void in the UK, France, Germany and where prohibited. Chipotle's official promo page –> http://www.chipotle.com/nurseappreciation
Are you going to use your nursing license to get free food?