Home Health Aide Services in New York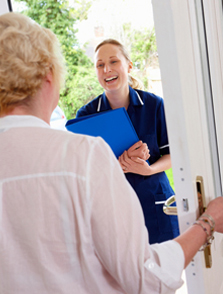 Click Here to Request Home Health Aide Services!
Homecare Therapies can provide Home Health Aides (HHA's) for you or your loved one. Utilizing HHA's can help the patient spend less time in the hospital, which not only reduces health care expenses, but also allows them to enjoy the comforts of their own home. Our Home Health Aides are trained to provide a number of services for patients and each individual will receive a customized service based on their needs and desires. We provide home health aides in the Bronx, Brooklyn, Queens, Staten Island, Manhattan, Nassau County, Suffolk County and Westchester County. We are the leading provider of home health aides in the 5 boroughs of NYC and Long Island.
Activities of Daily Living – Home Health Aides provide assistance with bathing, dressing, transferring, proper positioning and therapeutic exercises.
Medical Assistance – HHAs can provide assistance with a variety of medical procedures like the monitoring of pulse and blood pressure. They can also provide patients with reminders to take medications and change non-sterile dressings if necessary.
Appointment Assistance – Home Health Aides can also provide assistance getting to and from medical and social appointments.
Food Preparation – The grocery shopping and food preparation needs of the patient are covered.
Light Housekeeping – A Home Health Aide professional can do whatever light housekeeping duties the patient may have to assist in keeping the home clean and orderly.
Companionship – Our Home Health Aide professionals can simply provide you or your loved one companionship. Whether it is shopping, a walk outside or a cup of coffee, they can help with one of the most important aspects of a patient's health, their quality of life.
Homecare Therapies will work hard to match the right Home Health Aide professional who will not only perform the duties you seek, but also be compatible personally. Home Health Aides often spend more time with patients than anyone else, so they become a vital link between the patient, his or her family members, and other health care providers. They work under the supervision of our Director of Patient Services, a registered nurse, and follow a customized plan of care. A simple call to our office will determine if a home health aide will fulfill your needs.
Home Health Aide services can be short or long term depending on your needs and maybe utilized for a few hours, the entire day or overnight. Our goal is to match the right Home Health Aide  professional to the patient and then customize a program that is right for the patient. Over time you can alter your Home Health Aide coverage to suit your needs.